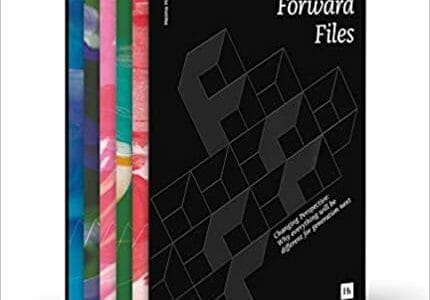 By Simon Cocking review of Fast Forward Files Volume 2: Changing Perspective: Why everything will be different for generation next. Available to buy here.
Escape your echo chambers and free your mind: this book is an essential read for everyone invested in tomorrow's world.
It is a compelling compendium of essays, articles and expert overviews, written by some of the world's leading authorities on future-critical issues as diverse as leadership, genetics, psychological profiling, marketing, health, memory and more.
It explores the need for new ethical frameworks for this fast-moving world, and confronts the reader to challenge the status quo in order to embrace coming advances in technology, engineering and human insights.
With contributions by: Cindy Gallop, Lucie Greene, Heimo Hammer, Igor Beuker, Carla Johnson, Sunnie J. Groeneveld, Sandra Matz and Shafi Ahmed.
The book takes an honest and very human appraisal of where we are now, and where to go next, exploring how we live, work and collaborate – today, tomorrow and beyond.
5 paperbacks in a slipcase
Fast Forward Files Volume 2: Changing Perspective, reviewed
This book is aiming to cover, discuss and exemplify creativity. This is a noble endeavour and one well worth pursuing. The books in this box are based on talks that were given at an event. This does mean that all of the books are quite short, with a lot of large text, and, while better than mere slideshare presentations, at times you are left wondering how much of the value in the talks is being conveyed via these pamphlets.
All of these talks might be better understood via watching them on youtube. We like the idea of what Fast Forward Files are trying to do, but we are not completely convinced this format is capturing the insights in the best way.
Publisher: Harriman House
Language: English
ISBN-10: 0857198025
More about Irish Tech News and Business Showcase here
FYI the ROI for you is => Irish Tech News now gets over 1.5 million monthly views, and up to 900k monthly unique visitors, from over 160 countries. We have over 860,000 relevant followers on Twitter on our various accounts & were recently described as Ireland's leading online tech news site and Ireland's answer to TechCrunch, so we can offer you a good audience!
Since introducing desktop notifications a short time ago, which notify readers directly in their browser of new articles being published, over 30,000 people have now signed up to receive them ensuring they are instantly kept up to date on all our latest content. Desktop notifications offer a unique method of serving content directly to verified readers and bypass the issue of content getting lost in people's crowded news feeds.
Drop us a line if you want to be featured, guest post, suggest a possible interview, or just let us know what you would like to see more of in our future articles. We're always open to new and interesting suggestions for informative and different articles. Contact us, by email, twitter or whatever social media works for you and hopefully we can share your story too and reach our global audience.
Irish Tech News
---
If you would like to have your company featured in the Irish Tech News Business Showcase, get in contact with us at Simon@IrishTechNews.ie or on Twitter:
Article by [author-name] (c) Irish Tech News - Read full story here.