Choose to Stay! Take 15 minutes and change your life. Overstock reaches out to techies home for Christmas
It could take just 15 minutes to change your life and career according to Overstock vice-president Dave Kenny who is hoping to catch the eye of techies who are coming home or visiting Ireland for Christmas.
The US technology company is keen to attract top talent to its European headquarters in Sligo where they can enjoy exciting careers and an enviable quality of life.
Overstock is urging technologists who are home for Christmas to spend 15 minutes browsing their vacancies over the holidays and in return they could get a rewarding and challenging job.
They'll also tap into a more relaxed lifestyle and vibe -with a 15-minute commute and the ability to live within 15 minutes from the beach in one of the more affordable locations in which to set up home in Ireland.
E-commerce and technology leader Overstock.com, Inc. (NASDAQ:OSTK) recently opened its new European base in the IDA's flagship North West business park in Sligo, and it has a variety of high-end technology jobs available including senior roles in areas such as software development and testing, machine learning, and data analytics.
Overstock invested in making the move to the Westgate tech campus in the IDA Business Park in Finisklin, Sligo town. It already has a staff of more than 80 people, having been successful in underlining the affordable cost of living and lifestyle options in the North West along with attractive career progression opportunities at Overstock.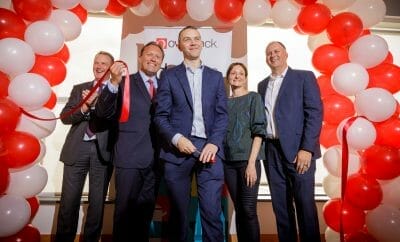 David Kenny, Overstock Vice-president and Site Lead, answered a few questions about the company and its ambitions for 2020.
Tell us a bit about Overstock and its operation in Ireland?
"Overstock is a billion-dollar online retail shopping site and technology company founded in 1999 in Utah. In 2014, Overstock founded Medici Ventures its wholly-owned blockchain subsidiary focused on introducing blockchain technology to existing markets to democratize capital, eliminate middlemen, and re-humanise commerce. Our European HQ is in Sligo."
What's driving the recruitment blitz and what will people get in return if they join Overstock in the North West? 
"We're building high performance software development teams in a state-of-the-art facility. I would urge those technologists who are home for Christmas to spend 15 minutes browsing our vacancies."
What will people get in return if they join Overstock in the North West? 
"We offer a diverse career path with real career progression, a cutting-edge tech environment and an excellent work life balance. Sligo is one of the most beautiful parts of Ireland, and the north west offers the whole package – adventure sports, great outdoors, fantastic places to eat and drink as well as a thriving tech scene. It's a very exciting place to be.
Why 15 minutes?
"Think about it. Instead of being stuck in traffic in Dublin or London, the likelihood is that you will have no more than a 15-minute commute to work and be only 15 minutes away from an unspoilt beach on the Wild Atlantic Way. The simple reality is that it could take only 15 minutes to change your life and career for the better. There is a quality of life here in terms of affordability and enjoyment that is unmatched in my view. Our teams include people from all over the world and they  love it here!
Fed up with unaffordable big city living and want a great tech job in the West? We're hiring! Check out our story and our range of open, high-end, quality roles. ?https://t.co/t1KkfUFHV8 #TechLifeBalance #JobFairy #STEM pic.twitter.com/Raq0Bd4dJ5

— Overstock Ireland (@OstkIreland) February 12, 2019
How do people get in touch?
"If you are considering moving home in 2020 after developing your career overseas, we want to hear from you. You can find our open roles here  Overstock's career page and we are also taking part in a special "Choose To Stay" recruitment day on Dec 23rd at 2pm in The Building Block in Sligo. It's organised by Tech North West you'll find Overstock and other companies telling their stories and sharing their open roles."
Home for Christmas and considering staying longer? We are starting the festivities in the north-west by welcoming back our tech talent. Check out all the exciting opportunities in our growing cluster and enjoy the holidays with food for thought. #welcomehome #technorthwest https://t.co/luwuIokmAi

— Overstock Ireland (@OstkIreland) December 13, 2019
More information about Irish Tech News and the Business Showcase, see more stories here.
FYI the ROI for you is => Irish Tech News now gets over 1.5 million monthly views, and up to 900k monthly unique visitors, from over 160 countries. We have over 860,000 relevant followers on Twitter on our various accounts & were recently described as Ireland's leading online tech news site and Ireland's answer to TechCrunch, so we can offer you a good audience!
Since introducing desktop notifications a short time ago, which notify readers directly in their browser of new articles being published, over 16000 people have now signed up to receive them ensuring they are instantly kept up to date on all our latest content. Desktop notifications offer a unique method of serving content directly to verified readers and bypass the issue of content getting lost in people's crowded news feeds.
Drop us a line if you want to be featured, guest post, suggest a possible interview, or just let us know what you would like to see more of in our future articles. We're always open to new and interesting suggestions for informative and different articles. Contact us, by email, twitter or whatever social media works for you and hopefully we can share your story too and reach our global audience.
Irish Tech News
---
If you would like to have your company featured in the Irish Tech News Business Showcase, get in contact with us at Simon@IrishTechNews.ie or on Twitter: @SimonCocking
Article by [author-name] (c) Irish Tech News - Read full story here.