It has been said that 'performance results today are the fuel for success tomorrow' – so how should leaders juggle what, at times, may seem to be conflicting objectives? Can we invest sufficiently in tomorrow without undermining performance today?
If we over-focus on results today do we sabotage our tomorrow? How much should we invest in new product development or building skills that will equip us for tomorrow, whilst not under-investing in marketing, quality assurance or operating cost efficiency today?
Historically the balance tilted to favour results today – achieving the forecast earnings results and thereby inspiring investors and pundits with the confidence that there would be a future stream of earnings that would justify a premium share price.
However, as the speed of business has accelerated, driven by technologies and management practices of the 4th Industrial Revolution, the balance has shifted towards investing in success tomorrow. How strong is our new product pipeline?
Are we equipped with the latest technologies that will give us a competitive edge tomorrow? Investors and pundits' confidence in our future stream of earnings is increasingly based on their picture of a firm's imagined future and evidence that we can overcome the obstacles (known and unknown) to get there.
Richard Branson has just recently returned to earth from a trip in his spacecraft. A project that he imagined and announced to the world in 2004. Over the years there have been many missed deadlines; promises of commercial flights in 2007, or 2010…or 2014.
There have also been accidents, technical setbacks and broken partnerships. Yet Branson is known for his tenacity and has a track record of overcoming challenges. The Virgin Galactic project matters to him personally and passionately, so he persevered.
In the late 1990s, McKinsey shared the point of view that leaders should think about 3-horizons (1. Current, 2. emerging opportunities, 3. 'ideas' for future business) and invest in them concurrently. Similar thinking and research by the Monitor Group suggested that the optimal investment balance for growth is 70-20-10 and highlighted the critical importance of protecting and investing in the 3rd horizon, despite operating pressures that can produce more short-term focus.
But, over the past 20 years, we've seen the greatest value creation by organisations that almost exclusively chase the future – for example, Tesla and Amazon, which are run by two visionary entrepreneurs Musk and Bezos, both of whom are also in active pursuit of space businesses.
So, how to resolve this apparent paradox of results today, whilst preparing for tomorrow? My work with business leaders shows that the solution is not to see a 'tension' between competing goals – rather to see 'stepping stones' of the journey to achieve the imagined future.
Are the initiatives and investments we are making today accelerating us to achieve the imagined future? If they are – they need adequate support, if not, how quickly can we stop investing in them and start freeing up resources to be deployed on more mission-critical steps and challenges.
A traditional approach to organising inside a business has been to separate out 'new ventures', innovation or new product development teams, from the core-business team and operations. Once a year at budget time, the executive leadership can look at the competing requests from the separate teams and decide how to allocate funds and resources between them.
It was claimed to be a necessary separation in order to protect longer-term investments, to establish and allow a different type of culture to thrive in the two teams and to govern the teams with different types of metrics.
However, sadly, for the majority of the firms adopting this approach, the main outcome was to deprive the organisation of much innovative thinking. From my research with 80 global organisations, there is a clear correlation between the proportion of the entire management cadre required to face and resolve the apparent tension of results today or investments for tomorrow and the overall performance of the company. Ambidextrous thinking – or "Also-And" thinking – differentiates the competitive performance of the organisation.
I was surprised by a conversation with an executive at Unilever responsible for an innovation portfolio when he said "my goal is to make myself redundant". He went on to explain that whereas it may be necessary initially to get some momentum going in innovation that there should be a specific team responsible, the goal must be for every manager to be innovative as an expected and ongoing part of their everyday job – delivering results today whilst accelerating the journey to tomorrow.
Future competitive advantage is the product of mastering the management of the present in order to achieve the vision of tomorrow. Such a vision is often purpose-led, described in ways that will benefit society. It must create a high level of energy and engagement such that all managers act ambidextrously, continuously resolving the paradox between results today AND investing for tomorrow, seeking to optimise for the whole, not just the part that they are directly responsible for.
Management and Leadership in the 4th Industrial Revolution by Stephen Wyatt is published by Kogan Page, priced £19.99, available online and from all good bookshops.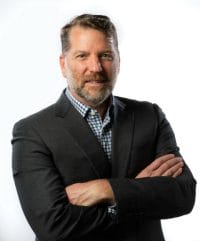 Written by Stephen Wyatt
Prepared by Ebony Ximines-Parke
Article by [author-name] (c) Irish Tech News - Read full story here.