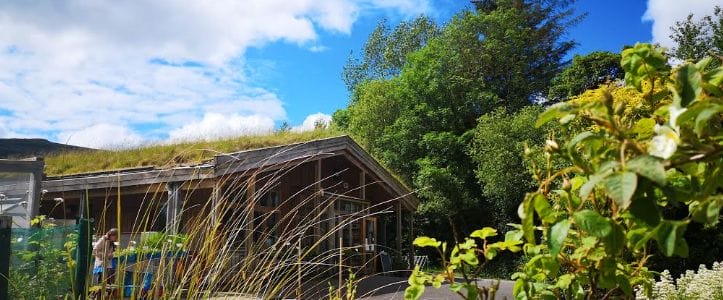 When and where is it on? 
'Renewable Energy' with Peter Schneider is on June 6th 2020 from 10am to 4pm at The Organic Centre in Co Leitrim. https://www.theorganiccentre.ie/
How many years has it been going? The Organic Centre charity itself has been in operation since 1995 and is now celebrating its 25th anniversary this year. Peter Schneider has been teaching at the centre from 2001-2010 and once again from 2019 and 2020.
What was the inspiration to start it? The Organic Centre as a charity whose aim is to promote organic growing and sustainable living. The growing body of reports that have warned of the global biodiversity and climate crises has meant a resulting heightened awareness in the general public. More and more people are becoming keen to build their own individual capacity and lessen their impact on the planet.
Peter Schneider says of the inspiration ' I guess people becoming more aware of energy issues at the turn of the century.  Around 2007, the focus shifted more to solar heating, in 2019 more to PV'
What exciting things can people look forward to?  Peter Schneider explains that people can look forward to 'An overview of small-scale renewable technology plus in-depth coverage of solar energy, especially solar electricity (=PV), both on-grid and off-grid, including outside demonstrations / installations'
What opportunities are on offer for those attending?  Attendees get the opportunity to learn from a leader of the field, one of the first to offer solar technology in Ireland. Peter has 25 years experience in small-scale renewable energy providing advice in energy conservation and which renewable energy suits individual needs.
Who will be speaking?  Peter Schneider.
Peter has 25 years experience in small scale renewable energy schemes. He has also previously been under contract with SEAI 2006-2011 as a technical advisor under the Greener Homes Scheme and the Microgeneration Pilot Scheme.
What tips would you give to people attending to get the most out of it? Peter likes to make the course real for people in their own personal circumstance. He says  'Bring details of your own situation, e.g. electricity bills, fuel bills, details of any renewable system you may have installed already.  And don't be shy to pick up a screwdriver and help with the sample installation'
How can people book tickets / when does it usually sell out? People can book online https://www.theorganiccentre.ie/shop/courses/courses-in-leitrim/Renewable%20Energy or book by ringing the centre on 0719854338.
Peter Schneiders course is very popular so people are advised to book early. If oversubscribed we would hope to have the opportunity to have a reserve list and run a second event at another time.
The Organic Centre is also offering a new course with another trainer on renewable energy that might also be of interest to the public in March 22nd. This is entitled 'Renewable Energy and Climate Change' with Eddie Mitchell from North Leitrim Sustainable Energy Committee (NLSEC) and 'Love Leitrim'.
https://www.theorganiccentre.ie/shop/courses/courses-in-leitrim/Renewable%20Energy%20and%20Climate%20Change
Anything else you'd like to add / we should have asked?
Keep an eye out on the Organic Centre website for all our upcoming events and ongoing courses or browse our catalogue!  https://www.theorganiccentre.ie/wp-content/uploads/2019/11/The-Organic-Centre-Catalogue-2020.pdf
More information about Irish Tech News and the Business Showcase, see more stories here.
FYI the ROI for you is => Irish Tech News now gets over 1.5 million monthly views, and up to 900k monthly unique visitors, from over 160 countries. We have over 860,000 relevant followers on Twitter on our various accounts & were recently described as Ireland's leading online tech news site and Ireland's answer to TechCrunch, so we can offer you a good audience!
Since introducing desktop notifications a short time ago, which notify readers directly in their browser of new articles being published, over 16000 people have now signed up to receive them ensuring they are instantly kept up to date on all our latest content. Desktop notifications offer a unique method of serving content directly to verified readers and bypass the issue of content getting lost in people's crowded news feeds.
Drop us a line if you want to be featured, guest post, suggest a possible interview, or just let us know what you would like to see more of in our future articles. We're always open to new and interesting suggestions for informative and different articles. Contact us, by email, twitter or whatever social media works for you and hopefully we can share your story too and reach our global audience.
Irish Tech News
---
If you would like to have your company featured in the Irish Tech News Business Showcase, get in contact with us at Simon@IrishTechNews.ie or on Twitter: @SimonCocking
Article by [author-name] (c) Irish Tech News - Read full story here.