The MagPal is a wireless power bank that will easily fit in your pocket and is designed to give your iPhone wireless charging via Apple's MagSafe technology. Introduced last year at the launch of the iPhone 12, MagSafe is wireless power transfer connectivity. It allows various devices to stick to the back of your iPhone and charge it wirelessly. If you have an iPhone case it will only work with MagSafe compatible cases.
I have had a review sample for a week now and I have to say that I am very impressed with it. Packing a 5000mAh battery, it gives an iPhone 12 mini 1 and 1/3 charge, an iPhone 12 and 12 Pro one full charge and it gives an iPhone 12 Pro Max an 80% charge. All this is done in a pocket sized device, which makes it easier to carry around and use. The MagPal is also compatible with all iPhone 13 models which were launched yesterday.
The MagPal also has one major advantage over Apple MagSafe devices. It has a built in adjustable stand that allows your iPhone to be viewed horizontally or vertically, allowing you to watch your favourite streamed shows properly.
MagPal Specs
Battery Capacity: 5,000mAh 3.7V, 18.5Wh

Battery: Lithium Polymer
Wired Charging Output (USB-C): 5V/3A, 9V/2A, 12V/1.5A Max 20W
Input (USB-C): 20W Max, 5V/3A, 9V/2A, 12V/1.5A Max 20W
Magnetic Charging Wireless Output: 7.5W
Power Delivery: Yes
Pass-Through Charging: Yes
Phone Stand: Yes
Time to full charge from empty: 2 hours
Weight: 163g
Colour: Black
Material: ABS+PC
Dimensions: 11.2*68*12.6mm (without stand)
11.2*68*17.2mm (with stand)
Certification: CE, FC RoHS
Safety Protection: Over current/voltage/temperature, short circuit protection
In the Box: Power Bank, Charging Cable, Manual
How does it Perform?
The MagPal has a battery indicator at the back allowing you to see how much power is left. It takes just 2 hours to recharge the MagPal once it has run out if juice. Being pocket sized I don't have to worry about will it be easy to carry around.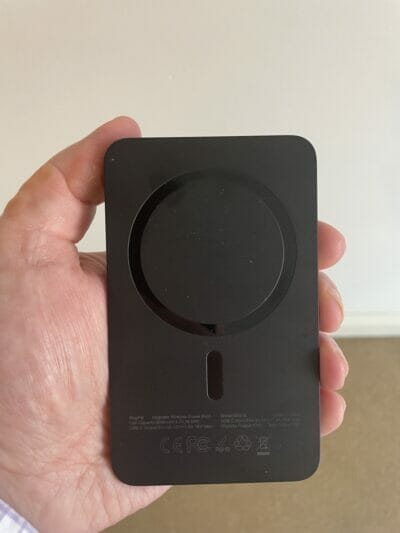 Also being MagSafe compatible it sticks snugly and securely to your iPhone.
What I really liked was the option of charging two devices at the same time. You can charge your first device wirelessly and your second device can be charged via a lightening port cable connecting MagPal to your second device.
Once the pandemic is over and things get back to normal and you are out and about the ability to get at least one full charge for your iPhone is a godsend. You won't have to worry about running out of battery or packing your charger cable and plug in case you need it. The fact that it also works with Qi enabled devices allows you to charge any Android devices that are Qi compliant.
Conclusion
The MagPal wireless power bank is well worth buying because of its size, it is able to charge two devices at the same time, it is able to charge Qi compliant devices and its built in stand. The MagPal wireless power bank has launched on Kickstarter today and you can find out more information about it and back the project here: https://bit.ly/3yTQT8y
See more stories here.
Article by [author-name] (c) Irish Tech News - Read full story here.