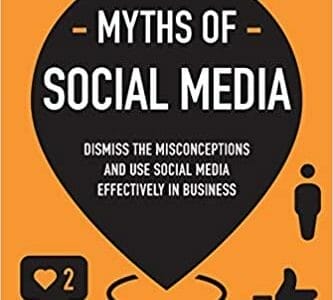 By Simon Cocking, review of Myths of Social Media: Dismiss the Misconceptions and Use Social Media Effectively in Business (Business Myths) 1st Edition, by Michelle Carvill and Ian MacRae. Available to buy from Amazon here.
Everyone knows that social media is free, millennials are all adept social media experts, that businesses always have to be available 24/7 and ultimately none of it really matters, as the digital space is full of fake news and online messaging is seen as inauthentic. Don't they?
The use of social media as a business tool is dominated by falsehoods, fictions and fabrications. In Myths of Social Media, digital consultant Michelle Carvill and workplace psychologist Ian MacRae dismiss many of the most keenly-held misconceptions and instead, present the reality of social media best practice. Using helpful and instructive, sometimes entertaining and occasionally eye-watering examples of what you should and should not do, Myths of Social Media debunks the most commonly held myths and shows you how to use social media effectively for work and at work.
Myths of Social Media, reviewed
Interesting new book by regular Irish Tech News contributor by Ian MacRae and also Michelle Carvill. There are 28 myths present in this book. In many ways these are straw men/people intended to be dismissed and knocked down. Overall there is a lot of good common sense and elements that we would completely agree with, and in these areas the book delivers a lot of good ideas and good sense conveyed within these pages.
Some of the 'myths' however seem a little less robust, and are surely too easily dismissed because we did wonder, does anyone actually believe them? A few examples include 'social media is the best source of information'! Really? We'd hope it is just one source, not the ultimate or only one. Similarly 'social media networks will protect my data'? We always doubted this one, and surely post Cambridge Analytica many others would also share this opinion too. However maybe these are unnecessary quibbles depending on who the book is aimed at.
The authors do know their subject matter, and walk the reader through a series of intelligent and insightful points. In this way this ensures that this is a good, useful book to read. Especially perhaps for those who are still dipping their toes into the world of social media and working out how to best communicate their message and their story to the wider world.
More about Irish Tech News and Business Showcase here
FYI the ROI for you is => Irish Tech News now gets over 1.5 million monthly views, and up to 900k monthly unique visitors, from over 160 countries. We have over 860,000 relevant followers on Twitter on our various accounts & were recently described as Ireland's leading online tech news site and Ireland's answer to TechCrunch, so we can offer you a good audience!
Since introducing desktop notifications a short time ago, which notify readers directly in their browser of new articles being published, over 30,000 people have now signed up to receive them ensuring they are instantly kept up to date on all our latest content. Desktop notifications offer a unique method of serving content directly to verified readers and bypass the issue of content getting lost in people's crowded news feeds.
Drop us a line if you want to be featured, guest post, suggest a possible interview, or just let us know what you would like to see more of in our future articles. We're always open to new and interesting suggestions for informative and different articles. Contact us, by email, twitter or whatever social media works for you and hopefully we can share your story too and reach our global audience.
Irish Tech News
---
If you would like to have your company featured in the Irish Tech News Business Showcase, get in contact with us at Simon@IrishTechNews.ie or on Twitter: @SimonCocking
Article by [author-name] (c) Irish Tech News - Read full story here.