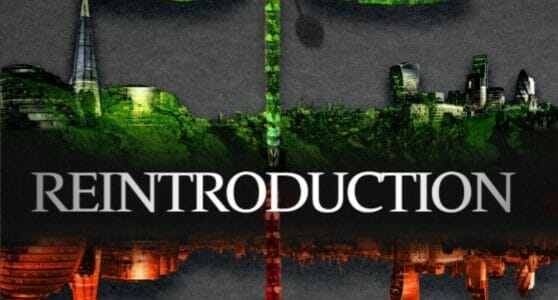 We look at this new sci-novel Reintroduction by Duncan J Brown, it is dark, challenging, and if you want to keep the spooky Halloween vibe going then this might be the book for you. See more about the book here.
Reintroduction by Duncan J Brown, reviewed
This book is dark, brutal, visceral and, arguably, does not end well for many of its main characters. With the current need for action on climate change, many would feel this is in keeping with our times, let alone the craziness of the last few years over the water, with attempted coups and more. In this context Reintroduction sits comfortably, and, if you like that degree of death, disillusionment and degradation, then this may be the book for you.
As per the blurb in the image, I am looking for an experienced screenwriter to collaborate on an adaptation of my novel as a miniseries. If you're interested, please contact me via my website: https://t.co/jGwz2VIsY4 pic.twitter.com/E2qfm5SZ7b

— Duncan Brown (@Duncanjbrown1) October 30, 2021
Brown has big plans for the book, and is planning to turn it into a mini series and is already looking for collaborators to grow this project. If it is something you are interested in you can reach out to him. As Netflix, Amazon, Apple and everyone else is looking for new content you never now. We recently watched Altered Carbon, which often danced between violent, visceral and sexual themes, this book and this type of story telling could fit into those type of elements. Similarly with the recent release of the Dune remake, it wasn't always about the dialogue, but more about the settings and the general clash between good and evil.
If this were to get remade into a televised version the ending would probably need to be tweaked or rewritten in some shape or form. There are classic movies that don't end well for many or even all of the protagonists, but at the same time as we have many negative things happening around us, not everyone will necessarily want even more of this when they opt for the fiction too. As always you pay your money and make your choice.
More the book
Reintroduction tells the story of Robert Corrigan, a 'Worker' in a despotic future London where society is divided between Workers, 'Non-workers' – or 'Nons' and those who are judged to be subversives or 'Transients'. With shadowy figures like Caspar Ulmer in full control of this hellish new world and disappearances a regular occurrence, Corrigan is charged with managing the mysterious programme, 'Project Egret'.
More about the author Duncan J Brown
I'm a British-America author born in the UK in 1963. My family moved to Massachusetts when I was four. As an adolescent, I expected to be attacked for the slightest hint of my real sexuality identity. I yearned to escape a culture where my peers taunted me, and my parents threatened me with hospitalisation and treatment if I ever owned up to being gay. Subsequently, I returned to the UK in 1982 to study and those years became formative for me as I escaped small town USA and the homophobia that left me fearing for my life.
I lived through the AIDS epidemic and the introduction of anti-gay legislation by Margaret Thatcher's government, leaving me acutely aware that rights can be stripped away even if you're dying in your thousands. I suffered from low self-esteem and survivor guilt, a heady concoction that led me to taking risks at the height of the crisis. My promiscuity during this period sometimes felt like cumulative acts of self-harm or even attempted suicide. I'd also been let loose in a candy store after years spent locked in a closet.
Disentangling lust from self-destructive urges is an impossible task and this remains a useful psychological space for me to study as an author. I studied as a visual artist for seven years gaining a Fine Art degree from Goldsmith's University and exhibited in galleries until the mid-90s when I started making short films. A fascination with writing dialogue eventually led to writing scripts, short stories, and novels.
— Duncan Brown (@Duncanjbrown1) August 20, 2021
See more reviews here.
Article by [author-name] (c) Irish Tech News - Read full story here.