The Van Gogh Immersive Art Journey reviewed by Linda Higgins
I can't paint. Yet, I appreciate the work of those who do. Few painters are more skilful than Vincent Van Gogh. He is the initial calling card of recognition for this exhibition. However, dive beyond the name and you enter into a world where art and technology collide with purpose and meaning.
Throughout this three-part immersive event, I had a miniscule glimpse into what might be within an artist's mind. Watching the vortex of colours that cascaded around and off the walls, onto the floor, and back onto the walls again, I was aware of the dynamics of movement that occur within the stillness of a painting and how it can be brought to life in a new and vibrant way.
I also became curious of the potential that digital media/artificial intelligence has as a
medium to create art within its own right. This utilisation of Van Gogh's work provoked its own myriad of questions and for me that is the transformative power of art. However, if you are looking for a linear/traditional interpretation of Van Gogh, then you will be disappointed.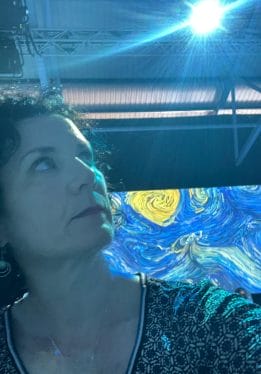 Instead, let that expectation go, and take the time to feel and see into the many potential ways that an artist might feel/see their work within the body and mind before it arrives through their brush and onto a canvas. Parts two and three (the non-Van Gogh elements) of this immersive event, alludes to these synaptic bursts that flow through each of us as we undertake any action…art or otherwise.
Beyond the main room, there is the mirrored mini-Versailles/room of mirrors and lights that is fun and evokes wonder in both children and young-at-heart adults. This room is a timed experience and a little bit longer in the room would have been wonderful but the repercussion of that option is that then there would be a longer queue into the room. A tricky balance to find between the waiting for and the experiencing of something. While waiting though, you can be part of a collective paint-by-numbers canvas on the wall. Colouring has never been more fun.
As a person who suffers from motion sickness, a word of caution though about the
immersive/virtual experience. Swirling images moving towards you in all directions can be overwhelming. Do take advantage of the beanbags on the floor. Laying down alleviates some of the overload of visual stimulation. It is clearly referenced on the website and the promotional material that this exhibition could provoke sensory issues for some people – I would widen the demographic to include those who are not great in cars/boats too.
Overall, as we emerge from a post-Covid era, this is an unusual and thought-provoking step back into finding new experiences to shake us up and wake us up.
The day is finally here! ?

We are so excited about our launch day today! We cannot wait for you all to experience this! ?

Remember to tag us in anything you post about our event! ?

If you haven't got tickets yet, there are still some available at:https://t.co/nOf88wNDFV pic.twitter.com/62S2I2JygB

— Van Gogh Dublin: An Immersive Journey – RDS Dublin (@VanGoghDublin) May 16, 2022
'Van Gogh Dublin – An Immersive Journey' tickets are available here. This event's ticket platform is hosted by Universe, a Ticketmaster company.
Venue Royal Dublin Society
Van Gogh Dublin is all digital, hands-free, and perfect for our socially distant world. Its rich content is suitable for a wide audience, including families, school groups, couples, and seniors.
An iconic venue of scale with strong artistic and cultural links, the RDS is one of a select few venues with sufficient infrastructure to build an immersive exhibition of this scale.
More about the show
An immersive celebration of Vincent Van Gogh
Van Gogh Dublin is a 20,000 square foot light and sound spectacular featuring two-story projections of the artist's most compelling works.
Encounter the brilliance of one of history's greatest artists in 360 degrees.
More about Linda Higgins
Linda Higgins is Director of Adult Education at Inchicore College of Further Education, Dublin 8. Our ethos is to support our community one night class at a time. Along with a wide variety of courses, we offer amazing art classes each year within our community. Follow us on all social media platforms.
See more reviews here.
Article by [author-name] (c) Irish Tech News - Read full story here.